Porsche
911SC 3.0
Location of the car
Wateringen NL
Call us with your questions!
+ 31 6 48 01 35 65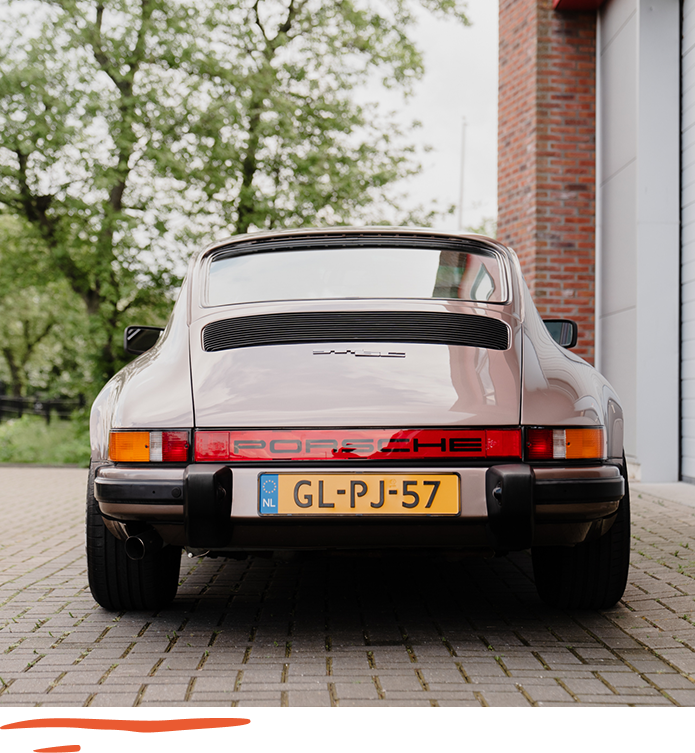 Porsche 911SC
More information
Special Porsche 911 SC 3.0 (G model) from 1979 without sunroof!
This is a matching numbers car. Verifiable by the supplied Porsche Birth Certificate. Delivered on 22-03-1979 in Germanys. So this is a European car. Repainted in 2017 in the color copper brown (Braunkupferdiamant metallic). Just back from an engine overhaul performed by Porsche specialist (The Mechanic). The engine is now bone dry again!
Major maintenance was immediately carried out and the car has a new MOT inspection until 06-2025.
The car has been in the Netherlands since 1993. The previous owner took the car to America in 2000 and brought it back to the Netherlands in 2013.
For this reason, there is currently a mileage counter in the Porsche. This is placed in ascending order with the odometer and currently reads 59,160 miles. This corresponds to the Teller report that comes with the car. KM counter is no longer present.
Original on wideset Fuchs 7j and 8j with good Vredestein tires. All other original factory options are still on the car: Center console, Tinted glass, Black moldings, Black antenna Right, Electric exterior mirror.
The original steering wheel is included with the car. Original tools are included with the car.
The history of the car is very complete:
– Porsche Birth Certificate 2023
– Documentation spraying 2017
– Documentation Engine overhaul 2023
– Appraisal report from 2018
– Immobilizer certificate
– Yellow original Dutch registration
– About 40 Invoices
Exterior has minimal signs of wear, the interior has some dry spots, but is not torn.
We are RDW recognized and can name vehicles.
The car can be viewed by appointment in Wateringen, the Netherlands. Worldwide transport is possible in consultation.